Working electrodes for Flow cell
Our working electrodes for flow cell are mounted in blocks of PEEK. This resin protects the electrodes from external noise and allows researchers to utilize them regardless the content of mobile phase of HPLC because of their hardness and organic slovent-resistance. Glassy carbon is usually chosen for the redox reaction study on liquid chromatography. Platinum, Gold, Carbon paste and Nickel electrodes are utilized for special purporses.
Features
Content
Structure
Excellent chemical resistance
Easy maintenance of the working electrode
Working electrode can be polished with PK-3 Polishing kit
Application of Electrodes
GC: commonly used for measurement of Redox behavior
PFC: commonly used for measurement of Redox behavior
Au: measurement of thiol-related compounds with amalgamate electrode
Pt: measurement of hydrogen peroxide and oxidized substance
Ag: measurement of cyano-sulfide
CP: derivatizationed electrode by filling compound of carbon paste, enzyme and chemical substances into it
Ni: amino acids measurement by chemical derivatization
Catalog No.
Description
Cross Flow cell
001000
Glassy Carbon Electrode
dia. 3 mm x 2 (dual type),
Size: 25 x 25 mm
001002
Gold Electrode
001012
Platinum Electrode
001008
Silver Electrode
001004
Carbon Paste Electrode

*

001009
Nickel Electrode
001006
Glassy Carbon/Gold Electrode
012583
Glassy Carbon/Platinum Electrode
Radial Flow cell
001016
Glassy Carbon electrode
dia. 6 mm (single type),
Size: 25 x 25 mm
010941
Copper electrode
012124
Glassy Carbon electrode
dia. 3 mm (single type),
Size: 25 x 25 mm
009908
Platinum electrode
011155
Gold Electrode
000999
PFCE Carbon electrode
010251
Carbon Paste electrode

*
∗001010 CPO Carbon Paste Oil base is sold separately.

Structure of the working electrode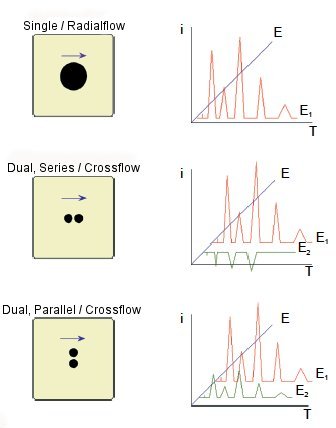 The dual glassy carbon electrode is considered to be a standard working electrode for cross flow cell. It is composed for two glassy carbon electrodes, of the 3 mm placed in series. Also it coul be rotated 90 degrees and applied as a parallel mode. The selectivity improves with the application of dual series electrode. In the parallel mode, identification of the substance, from the different applied voltage response ratio, is possible.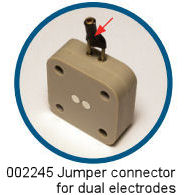 For the dual electrode, the electrode surface area doubles by using the jumper connector (002245), and high sensitivity analysis becomes possible. For the working electrode, the platinum/gold electrode and others are also available.