Model 3325 Bi-Potentiostat for RRDE-3A and SEC2020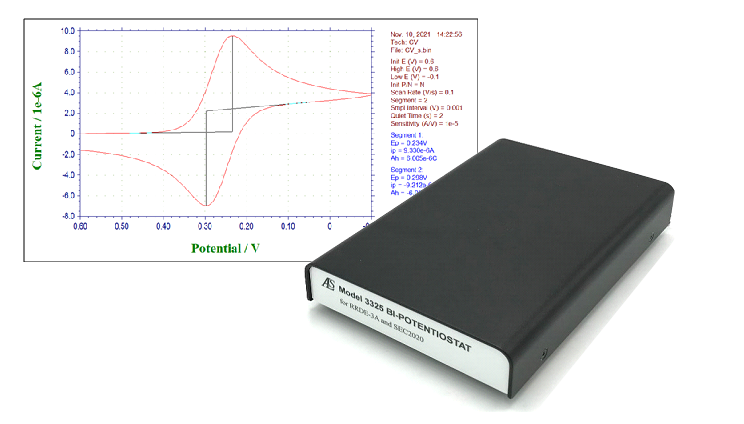 Very low-price and high-performance electrochemical analyzer


Model 3325 Bi-Potentiostat is a versatile electrochemical measurement device. The instrument incorporates a digital function generator, data sampling system, and potentiostat / bipotentiostat. The potential range is ± 5.0 V and the current range is ± 50 mA. It can measure currents greater than 100 pA. It is also possible to read the data measured with its predecessor, the Model 2325 Bipotentiostat.
The handheld size of the instrument allows it to be connected to a computer using a USB cable for communication and power supply. It is ideal for a field measurement and educational device in combination with a notebook PC.
It also has a remote function for the control of the RRDE-3A Rotating Ring Disk Electrode Apparatus and SEC2020 Spectrometer system.
Features
Content
Specifications
Configuration
Software data processing
Bi-Potentiostat
High-performance
Compact design
RRDE & SEC2020 system control
Repeated or sequence measurement
Macro command
Levich and Koutecky-Levich plot
Model 3325 contents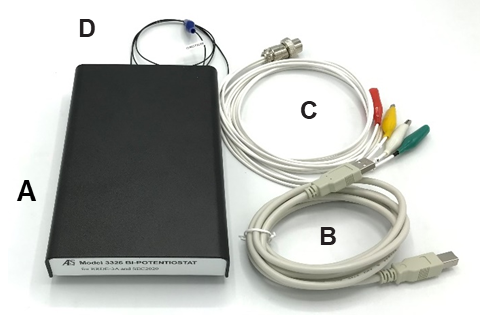 | | | |
| --- | --- | --- |
| | Description | Qty |
| A | Model 3325 Bi-Potentiostat | 1 |
| B | Cell cable | 1 |
| C | USB cable | 1 |
| D | Ground wire (installed on the main unit) | 1 |
Catalog No.
Description
013817
Model 3325 Bi-Potentiostat
013820
Model 3325 Software
Hardware
Potential range
±5 V
Current range
±50 mA
Output voltage
±11 V
Sensitivity range
±2.5 nA ∼ ± 0.05 A (8 ranges)
Input impedance
1 x 10

12

Ω
Minimum potential resolution
100 µV
Maximum sampling rate
16 bit @ 100 kHz
Background current
< 80 pA
Current resolution
0.3 pA
Scan rate (CV)
1 x 10

-6

∼ 80 V/sec
Operating system
Windows

TM

10, Windows

TM

11
Interface
USB 2.0
Power
supplied from USB port
Dimensions (W x D x H)
170 x 110 x 25 mm
Weight
0.35 kg
Accessories
USB cable, Cell cable, Ground wire
Software Techniques & Measurement range
CV (Cyclic Voltammetry)
1 x 10

-6

∼ 80 V/sec
LSV (Linear Sweep Voltammetry)
1 x 10

-6

∼ 80 V/sec
i-t (Amperometric i-t curve
0.01 ∼ 1 x 10

7

sec (Sampling time)
OCPT (Open Circuit Potential)
1 ∼ 5 x 10

5

sec (Sampling time)
RDE
0 ∼ 10 V output
Configuration for the experimental system
Model 3325 control terminal
Synchronize measurement and control of the external equipment such as SEC2020 Spectrometer system and RRDE-3A Rotating Ring Disk Electrode Apparatus can be performed using the CB-VS remote cable (15 pin).



Cell control terminal of Model 3325.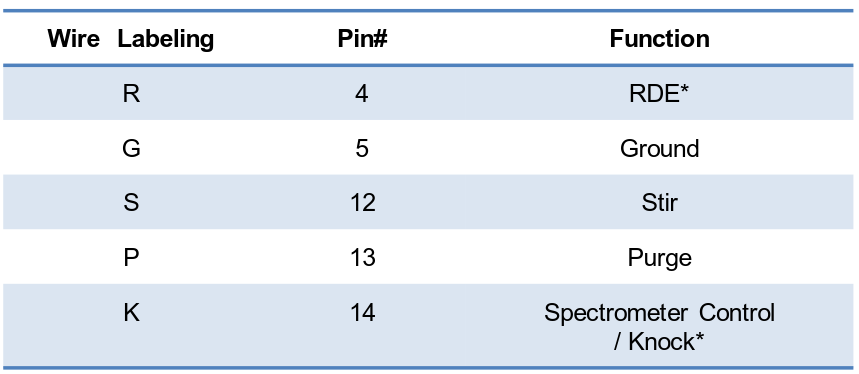 Schematic of the terminal pin number.
Remote control of RRDE-3A Rotating Ring Disk Electrode Apparatus

Remote connection of Model 3325 and RRDE-3A.


Pin number and corresponding trigger cables.
Trigger control of SEC2020 Spectrometer system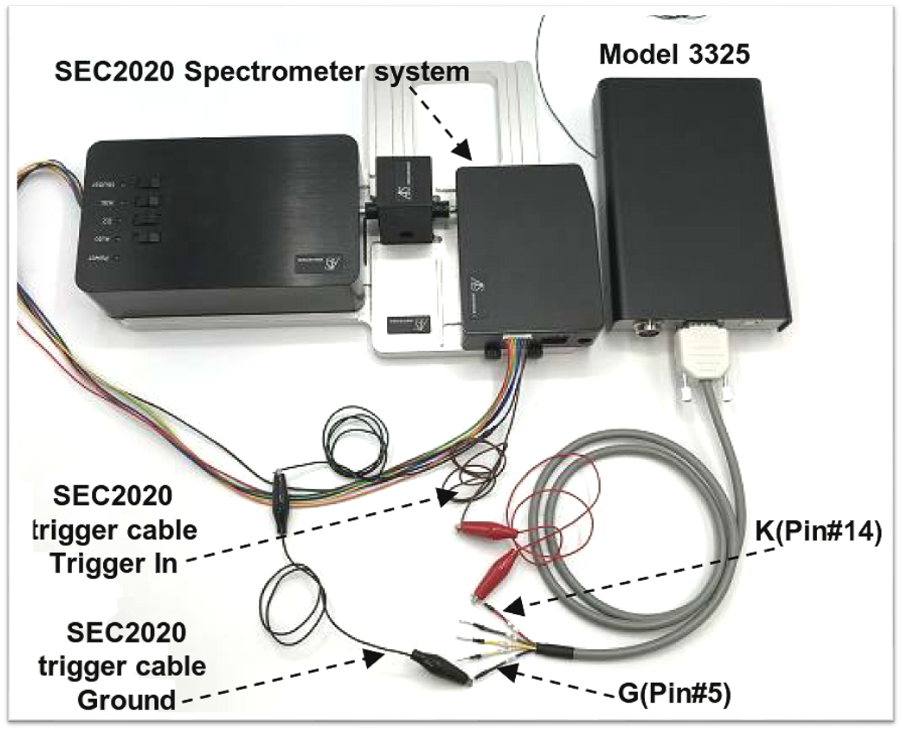 Trigger connection of Model 3325 and SEC2020.
For both experimental configuration the Cat. No. 013818 CB-VS Remote cable (15 pin) is required.
Catalog No.
Description
013818
CB-VS Remote cable (15 pin)
Model 3325 Bi-Potentiostat software data processing
Model 3325 is digital controlled by PC software, whereas its price is almost same to the analog equipment. Dual channel CVs measured by Bi-Potentiostat can be plotted simultaneously on the software window. It is easy to overlay the CV curves for data comparison and the peak fitting function necessary for the data analysis is also included. In the setup screen, the rotation speed of the RRDE and gas purge ON/OFF can be controlled. The Model 3325 software is quite easy-to-use, even the beginners of the electrochemical measurements can easily work on it for the first time try.


Levich and Koutecky-Levich plot
Rotating disk electrode (RDE) is the method to obtain a forced convective voltammogram by which the data analysis is performed using the Levich or Koutecky-Levich plot, and also can calculate the parameters such as diffusion coefficient and electron number.

Toolbar (left) and Levich and other plot (right).
Rotating Disk Electrode Control
Rotation speed (rpm) and time of the rotating rdisk electrode can be controled by the software. Also, the quiet time and rotation state between and during the run can be selected.

Toolbar (left) and Rotating Electrode Control (right).
Spectrometer Control
When "Spectrometer Control" is executed with "On" selected, the TTL signal output is at a High level (5 V) during the measurement and at a Low level (0 V) during all other times. This command is used to control the spectrometer when performing spectroelectrochemical measurements. It works with CV, LSV, and i-t techniques.

Toolbar (left) and Spectrometer Control (right).
Model 2323/2325 measurement data can be loaded and analyzed
Model 3325 software enables loading and analysis of data (.DY20) measured and saved by our previously sold models 2325. Comparison of data acquired with the Model 2325 and measured data with the Model 3325 can also be easily performed.